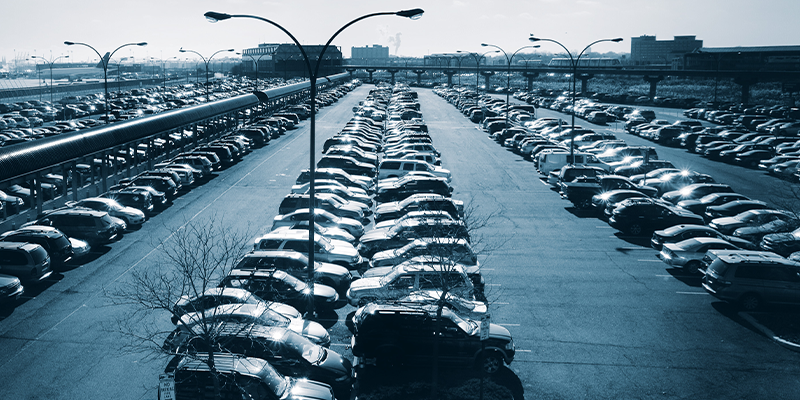 A good portion of criminal acts occurs in parking lots. Often, facility managers do not implement sufficient security measures or take "reasonable care" in the protection of employees and visitors against threats in these vulnerable areas. Security pain points revolve around a lack of sufficient lighting, poor surveillance equipment, and slow response.
Security lighting
In order to deter crime in parking lots and garages, security lighting is one of the most important factors to consider. The proper solution can increase the visual range of security teams and video cameras at night and in zones where natural light does not reach or is deficient.
In parking lots, adequate illumination is crucial, as it can assist in:
Providing minimum visibility and light intensity levels.
Observing activity in detail, increasing the likelihood of detecting a problem on time.
Inspecting vehicles with LPR systems, which do need good lighting.
Recognizing intrusion attempts.
Identifying suspicious people.
Recommendations
It is recommended that any point in the entire parking lot gets illumination from 2 to 4 lighting locations and with the lights mounted at a minimum height of 20 ft (6.1 m).
The minimum recommended illumination levels for the barest sight essentials on parking lots is 1 foot-candle for self-parking areas and 2 foot-candle for attendant parking areas, due to liability and potential damage to automobiles.
When security improvement or customer convenience are significant considerations, 5 foot-candle and higher should be used.
Solar lights
Commercial solar-powered security lights are a phenomenal way to keep parking lots lit and safe. One of the most important advantages is that they only need the sun to function and do not rely on power to operate. This feature gives peace of mind to decision-makers, as parking lots will always be illumined, despite getting no power at all.
Further, their performance is unparalleled. Solar lights emit a bright white light, which enables guards and cameras to better monitor every area at any time during the night. And, they are low maintenance. Their lithium-ion rechargeable battery lasts for years before it needs to be replaced.
Video surveillance
An expert integrator can help your business adopt the correct video surveillance solution to boost the protection of your parking lot. Cameras can also be powered by solar light, offer real-time monitoring, provide infrared night vision, be waterproof, and have an extensive field of view to capture all the necessary details you need to prevent, mitigate, and respond to an emergency.
Solar-based security cameras can display high-definition footage, night vision, and wide angles. In addition, with advanced video analytics and two-way audio, they can effectively detect and deter intruders. Real-time vigilance, powered with solar energy, is extremely reliable since it is able to operate 24/7/365.
Organizations are moving to solar power technologies to protect their parking lots and garages. This pattern is due to the outstanding benefits solar solutions offer, which include low maintenance, unparalleled functionality, reliability, and self-sufficiency.