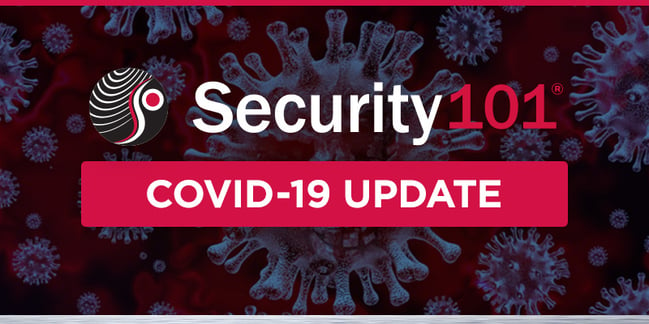 We are here for you. Through an extensive Business Continuity Plan, the nationwide offices of Security 101® are ready to safely respond to important service calls and keep your system projects moving along. As an essential service, per the Essential Critical Infrastructure Workers notice from the U.S. Department of Homeland Security's Cybersecurity & Infrastructure Security Agency (CISA) we are ready to assist where and when it is appropriate.

View the CISA memorandum from March 28, 2020
Security 101 would also like to remind our customers, strategic partners, and colleagues of our commitment to providing the highest level of support and service. Equally important for us is the safety of our families, employees and clients. We are taking the necessary steps to be prepared to continue the level of support you have come to expect from our teams, nationwide.
We are ready to virtualize our office to allow our staff and inside support teams to work remotely.
We have plans in place to expand upon our ability to offer remote support as needed, around the clock.
Our employees have been briefed with specific instructions published by the CDC on best practices on how to

Plan, Prepare and Respond to Coronavirus Disease

.
We eliminated non-essential travel for our employees until further notice. We will continue to work with our local offices in each of the territories and provide remote support when required.
We have reduced the number of onsite meetings by encouraging the utilization of online meeting tools and allowing employees who have the ability to work from home.
We will continue to monitor the impacts of COVID-19 and adjust the way we do business to ensure the health and safety of both of our teams.
Note: The Essential Services Act of 2013 deemed physical security an "Essential Service" to protect property, infrastructure, telephone and networks — allowing us to continue operations, and we would like to add — where needed and appropriate. Please stay safe everyone!