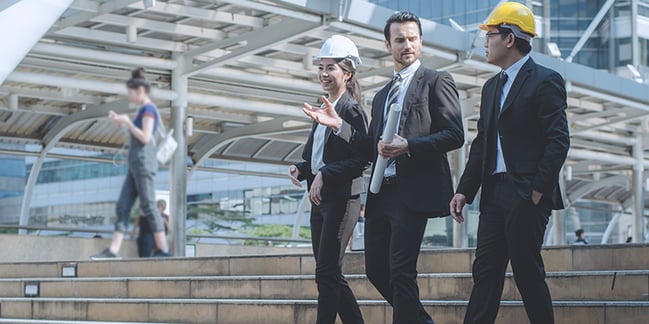 One of the many responsibilities of property owners and administrators is to provide a safe place for tenants to live and work. This can be a daunting task when security operations are conducted with old technologies and ineffective systems. Yet, the professional integration of sophisticated solutions can translate into increased visibility and safety and improved reputation. This is particularly important to keep renters happy, create a sense of community, and attract quality tenants, who tend to ask critical questions about security before deciding to rent your property.
These are the top questions you might get asked from future occupants and ways in which you can satisfy their safety and security requirements and maximize your Return On Investment (ROI).
What type of monitoring system does the community have?


Adopting a property-wide, 24/7/365 video surveillance system can identify potential threats in real-time and ensure live monitoring of common areas, parking lots, reception zones, and perimeters. IP video cameras are recommended as they provide increased coverage and protection. They utilize AI and machine learning technologies, which greatly assist landlords in making more informed and pertinent security decisions.

Besides recording and retaining video footage, what additional features does the video surveillance system offer:


Some of the most important features a first-class monitoring system can provide property managers are:

Around-the-clock monitoring with real-time feedback
Instant alerts
High-quality images that might be accessible to renters
Differentiation of people, objects, and vehicles to avoid false alarms
Overcrowding monitoring and notifications
Accurate, actionable insights

What security solutions are available to ensure parking lot safety?


License Plate Recognition is one of the most valuable technologies to ensure parking lot safety, as it automatically detects, reads, and validates the unique sequence of numbers and letters that appear on a vehicle's license plate. With developments in artificial intelligence and advanced analytics, this technology is incredibly accurate and is now able to consistently deliver correct readings in the field.

LPR can block unauthorized vehicles from your facility, giving you and your tenants the peace of mind that only authorized individuals will be allowed to enter. Further, the camera system required for LPR solutions continually records your facility's access points, keeping a detailed log of all approaching vehicles with accompanying camera footage.

Does the community employ video analytics in conjunction with other solutions?


Video analytics is becoming a must-have for property managers. It utilizes Artificial Intelligence (AI) and deep learning to improve coverage and allow systems to continuously process more video and data. The result is more accessible and actionable information, which can be used to enhance safety, security, and operational decision-making.

What type of locking system does the building utilize?


Ideally, for rental properties, locks are keyless and wireless in order to provide a safer environment and protect renters. Nevertheless, standalone and offline locks are quick and easy-to-install alternatives. Without the complexity of a networked system, these locks can still help property managers meet basic high-security requirements.

However, wireless devices avoid the greatest cost and inconvenience of legacy access control – the wiring at the door. They are simple to set up, use, and manage. The finish of the lock could also be customized to match the color and style of the door and environment.

Is touchless access control part of the community's security arsenal?


A modern, electronic, contactless access control system can facilitate physical access while increasing building health and security. This solution can be cloud-based and remotely managed, saving time and money on costs associated with legacy systems and physical staff. In addition, it can enable instant emergency access to doors, as needed, and offer temporary access to contractors, vendors, maintenance staff, and personnel.
As tenants become more interested in improving their living and working conditions, it is crucial for property owners and managers to modernize their security systems and invest in solutions that boost convenience and productivity and support the delivery of a high-quality tenant experience. Especially for millennials, a big portion of current lessees, smart upgrades, and improved security are key prerequisites to rent a place.
Invest wisely,
manage effectively
Discover how our advanced software platforms, maintenance tracking systems, and tenant management tools can transform the way you manage properties.