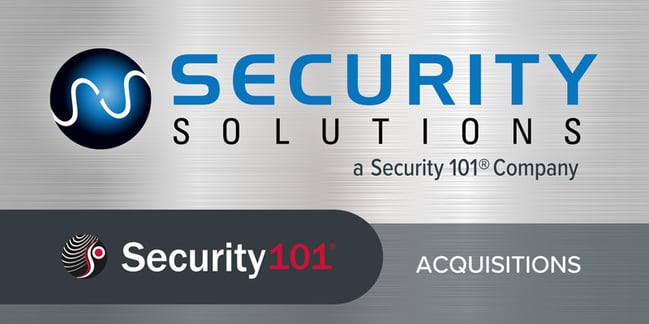 COMPANY WILL BROADEN ITS CLIENT AND SUPPORT BASE AS A RESULT OF THIS STRATEGIC ACQUISITION
Security 101, a national provider of full-service commercial security solutions, has announced that it acquired Security Solutions Northwest (SSNW), based in Bellingham, WA. SSNW is a leading regional provider of commercial security systems design and installation services.
With this acquisition, Security 101 expands its presence in the State of Washington and complements its existing client base in the education, government, and property management vertical markets.
"Given SSNW's commitment to exceptional customer service and their deep relationships, it is a natural fit for Security 101," said Steve Crespo, CEO of Security 101. "The acquisition of SSNW expands our national footprint and broadens the scope of our service offerings to include life safety systems — advancing our capabilities in fire testing and inspection services," Crespo added.
Jamie Vos, President of SSNW, remarked, "We're proud of the reputation we've established in our local markets and the longstanding relationships we've built through our customer-first approach. Partnering with Security 101 enables us to enter new industries nationally while we continue to provide existing customers with the exceptional security service they've come to expect over the years."
About Security Solutions Northwest:
Founded in 1904, Security Solutions Northwest has a rich heritage of providing physical security services in the Bellingham, Washington area and surrounding communities. SSNW helps its customers design and execute customized solutions for their security needs. For more information, visit www.ssnw.co.
About Security 101:
Security 101 is a national provider of integrated security solutions to a diversified set of commercial customers across multiple end markets, including healthcare, education, financial, and government, among others. The company delivers a full-service offering of security services and products including the design, installation, and maintenance of access control, video surveillance, intrusion detection, visitor management, and managed service solutions. Founded in 2005 and based in West Palm Beach, FL, Security 101 has over 50 locations in the U.S.
Follow us at our social media pages for updates and all things electronic commercial security: Twitter: @Security_101; LinkedIn: Security 101; Facebook: Security 101