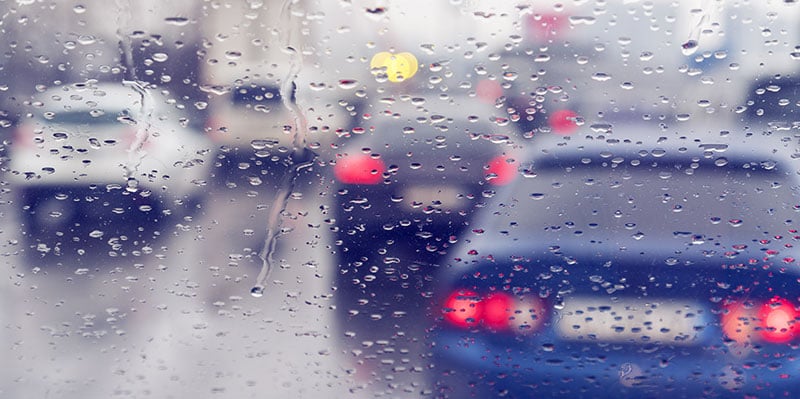 Last week Denver's local news reported wet weather was to be expected in much of the US, with a severe thunderstorm watch due to the likelihood of widespread significant wind damage. This week, isolated damaging wind gusts hit Iowa's largest cities with winds as powerful as an island hurricane leaving thousands without electricity. It certainly seems that the weather patterns are trending towards more severe storms across the nation.
During this stormy weather, the license plate detection (LPD) function of license plate recognition (LPR) cameras might not be working at its optimal capacity. The performance of LCD (long capture distances) and DR (detectable range) is severely limited during rain, snow, and fog. Under these conditions quality is key to show a clear image of a license plate.
Here are 3 pointers to improve LPR functionality under bad weather conditions:
1. Resolution
The read-accuracy of LPR can be improved by the quality of the image it captures. One good capture from a poor camera will be more useful than a blurry image from a great camera. Therefore, the image quality is more important than the camera itself. It is important to also take into consideration the camera's zoom and focal length.
2. IR Light
The most important component for taking any good picture is lighting. A commonly used artificial lighting is a flash — but natural sunlight, moonlight, fog/rain, shadows, glare, and so forth can also affect the image quality. Luckily, some of these can be controlled or adapted, while others will have to rely on good LPR software.
When referring to IR and white light image types, there is still some debate about which one is better for LPR. There are advantages and disadvantages to each. For instance, a splat of road salt (used to melt snow) on a license plate is invisible in a white light image, but they appear black in an IR image. Overall, for conditions with poor lighting, an IR image may be better for LPR than white light. Infrared cameras capture images outside of the spectrum of white light making images show a greater contrast of IR reflective materials. IR light is ideal for LPR cameras because it increases the visibility and contrast of a license plate in darkness or cloudy weather. Since this light is invisible to the eye, it will not blind drivers. IR light can be built into the camera, or it can be added to the device.
3. Artificial Intelligence
Machine learning brings an innovative approach to license plate recognition. AI-based procedures allow LPR to detect a driver's license plate by using both images and video, with "reads" leading to a 99.02% accuracy rate. Traditional LPR can greatly benefit from AI. For example, by using ALPR (automatic license plate recognition) on police cars the device can better perform plate "reads" at high speed or in bad weather.
The most important stage of any LPR system is license plate detection (LPD). It can be simpler to detect license plates indoors and in controlled environments. In outside uncontrolled environments, difficulties caused by weather shouldn't prevent LPR cameras from delivering optimal images. The success of LPD will dictate the accuracy of the entire LPR system. Do not let rain, snow, or fog compromise its quality.