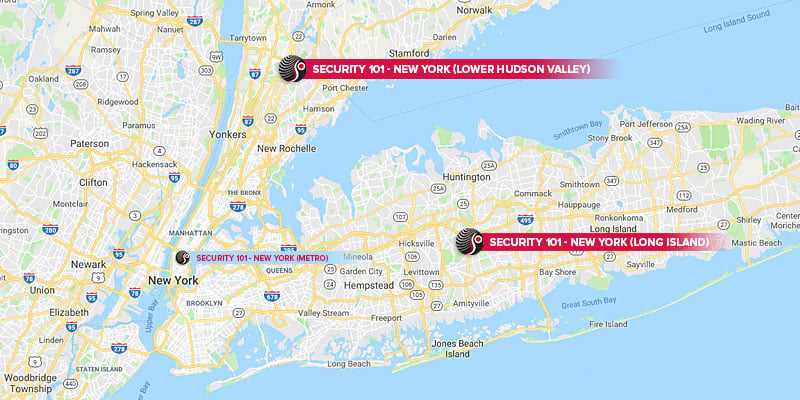 As the largest metropolitan area in the world and largest in the U.S. by population, New York is further covered by two additional Security 101 franchises. We are proud to announce the opening of these offices in the area, adding Security 101 – New York (Long Island) and Security 101 – New York (Lower Hudson Valley) to the existing office in New York City.
As an epicenter for the financial, education and manufacturing industries. As well as home to Wall Street, the Port of New York & New Jersey and Silicon Alley, it is very clearly a high technology industry center, with ever increasing security needs.
The amount of activity and growth in the area mean international, regional and local businesses need qualified security integrators to help them protect their people, property and resources. The three Security 101 offices in the region are set up to help businesses in the area with integrated security systems, that will provide them with the high-quality safety and security they require.
Security 101 – New York (Long Island) is owned by Steve Markowitz, an experienced executive with a demonstrated history of working in the security and communications industry. He was formerly the CEO of Command Electronic Systems, an independent contractor installing and maintaining low-voltage systems. These included voice, data and security in the greater New York City area.
Security 101 – New York (Lower Hudson Valley) is owned by Paul Roberts, who has 20 years of experience in the financial services industry. His extensive experience includes raising capital for private equity funds, providing strategic advice, managing corporate finances and principal investing activities.
These two new offices will join Security 101 – New York (Metro) owned by Anthony Iovine and Rob Ryan who have established a strong team of customer service and technical staff, ready to cover their portion of the region.