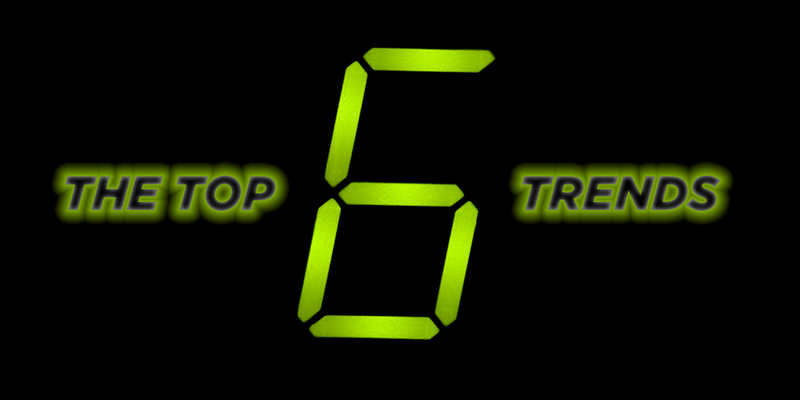 If 2020 taught us anything, it's that change is inevitable, even in industries that seem unyielding and stable like commercial security. The rise of remote work, increasing cybersecurity awareness, and changing workplace layouts are all influencing the way organizations will approach security into 2021 and beyond. When it comes to preparing for the future of physical security, adaptability has become a top priority. From touchless entry to remote monitoring, it's clear that flexible solutions will lead the 2021 security trends, with an eye on agile technology that's scalable and interoperable. These are the top 6 physical security trends for 2021 that are helping businesses find success even through the uncertainty.
1. Merging physical and cybersecurity strategies
When it comes to security trends for 2021, being able to protect data is essential to any business's success. With so much information now constantly moving between dispersed teams, cybersecurity is a growing concern. While cybersecurity is vital to asset protection and preventing a costly data breach, it's important to remember that most of those breaches occur 1) from inside the organization, and 2) in conjunction with a physical security breach. So, employing smart physical security strategies to protect places where confidential data is stored, such as with access control, video surveillance, and real-time monitoring, will help prevent that data from falling into the wrong hands. Interoperable platforms can help businesses connect all their security systems, providing a more holistic approach to workplace security.
With physical security technology trends favoring cloud-based solutions, businesses also have more system analytics at their disposal, which helps safeguard institutions from growing cybersecurity threats. For organizations with multiple locations, it will become increasingly important to establish a centralized security hub for monitoring all sites simultaneously, and having access to detailed activity logs for auditing and compliance purposes.
2. Remote management
The spike in working from home and distributed teams during 2020 doesn't show any signs of slowing. That's one reason security trends for 2021 include being able to manage the entire system remotely. Thanks to a boom in cloud-based security technology, security teams can remotely control property access by unlocking doors or triggering site lockdowns without having to be on-site. Being able to triage security issues in real-time helps facilitate quicker responses, as well as reduce the potential damages associated with a security breach.
Instant credentialing is also a vital remote management capability. In order to accommodate changes in staffing, a keyless door lock and entry system allows users to unlock the door with credentials issued to their smartphones, rather than having to wait around for their key card or fob. Similarly, administrators can instantly revoke individual or group access to maintain building security, which is also helpful for accommodating flexible scheduling, or for temporary office closures. A remote system centralizes security management by making every site, zone, and building accessed from a single interface, a growing physical security trend for multi-site enterprises looking to increase ROI with less investment.
3. Visual verification—without badges
As we look to the future of physical security, digital experiences will continue to dominate the market. Mobile credentials are on the rise, thanks to their inherent convenience and ease of use, and also due to the secure, encrypted nature of a smartphone-based system. In terms of physical security trends, 2021 is proving to be the year of the digital ID badge. Companies are making the switch from traditional badges and key card door lock systems to a unified mobile credential, which gives them the benefit of touchless and keyless access, now paired with the visual verification of a digital ID badge.
Another benefit of enabling mobile-based badges on a cloud-based management platform is the ability to customize and roll out updates as needed, without having to reprint and reissue credentials to every affected user. Organizations can easily choose the types of relevant information they want to display, such as title, vaccination status, department or group, and instantly issue the badges alongside the mobile credentials, rather than waiting to print and issue a physical card. This is especially helpful for remotely managing new hires, third-part vendors or contractors, and increased maintenance staff.
4. Automating everything
Harnessing the power of IoT connected devices also tops the list of important physical security trends in 2021. With more cloud-based and internet-powered systems than ever before, automation is the key to workplace efficiency and productivity. By identifying where processes can be made more efficient through automation, businesses can free up resources, reduce costs, and create more sustainable practices across entire enterprises. Tools like a powerful Rules Engine can help streamline automations between connected building access control and security systems, making it faster and easier to address potential issues.
To take full advantage of automations, however, businesses will need to choose software, hardware, and apps that are open and interoperable. While many systems claim to be "open," they often offer only a limited number of integrations. Because automations are up-and-coming trends in the 2021 physical security space, teams will need to do their due diligence in researching the best open access control, video surveillance, visitor management, and building management platforms to accommodate their security needs.
5. Cloud-connected smart buildings
We can't talk about automation and 2021 physical security trends without highlighting the important role that cloud-based systems have in creating smarter buildings. Beyond the scalability and functionality that cloud-based physical security offers compared to traditional on-premise options, interoperability in the cloud enables even more flexibility. With all systems integrated via open API and mobile SDK platforms, it's easier to manage multi-site enterprises, with everything accessed on one interface, rather than localized servers and disparate dashboards. Features like single sign-on are major time-savers for administrators, and reduce both IT burden and configuration fees.
Smarter buildings also make scaling operations easier; something that is essential to adapting to both business needs and outside factors. With smart buildings and cloud-connected systems, it's a seamless experience to test and roll out new physical security processes across individual sites or entire enterprises. Plus, organizations operating on cloud-connected security platforms have the ability to ingest data from disparate systems into business intelligence tools, automatically enhancing both security and building experiences across the board.
6. Occupancy tracking and space management
It's no surprise that organizations are still looking for better ways to make their staff feel safe coming back to work, and a big part of that is occupancy management. The future of physical security, especially over the next year, will focus heavily on limiting the number of people for social distancing. When reimagining the workplace, adaptive technology with built-in occupancy tracking features, such as access control, video surveillance, and sensors, will help businesses proactively manage their capacity. Especially for companies looking to move to flexible or staggered shifts, being able to see who is accessing the office in real time, paired with tools like desk mapping and reservation software, can make managing shifts easier and safer.
While useful right now as a top physical security trend in 2021, occupancy tracking tools also have long-term benefits. Over time, companies can use occupancy data to improve space management, informing better decisions regarding workplace layouts, building amenities, and determining the square footage needed to scale operations. All of this equates to a proactive office management strategy that saves time, money, and hassle.
---
Ready to take on 2021 with a new security strategy? Talk to your system integrator about adding solutions like remote access control, touchless mobile credentials, and cloud-based management to your physical security system.