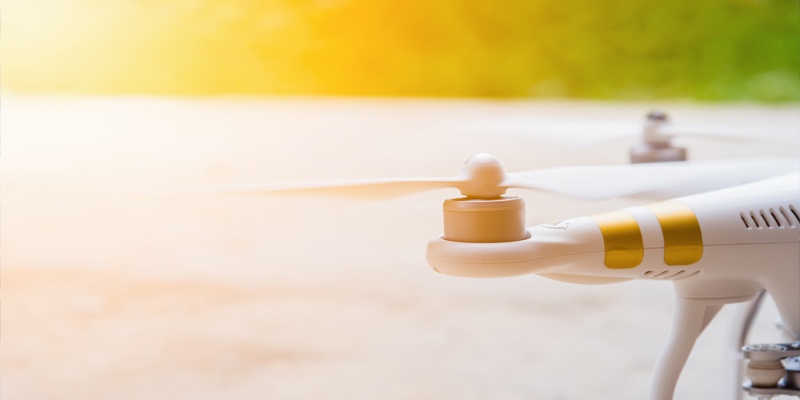 Lucky you! It's the holidays and someone gave you a drone as a gift! While it's an exciting and impressive gift, be sure you know the rules surrounding use of this great product before you run outside and attempt to fly it around the neighborhood.
Before doing anything, check your state and local laws on "naughty" and "nice" drone behavior, and register your drone with the FAA at faa.gov.uas. It is also recommended that you stay up to speed on the latest drone laws and drone-friendly (and unfriendly) zones by using the B4UFLY app on your smart phone. Flying your drone without registering it is illegal (and no one wants to see you spend the holidays in jail).
By now many of us, even those who do not own a drone, know that flying it over an airport is a no-go. We don't need to say why. Flying your drone in the path of an airplane is reckless, dangerous, and illegal so don't do it. Flying a drone over people and private property is also a bad idea, with laws evolving that protect homeowners from potential spying. It would be like purchasing a camera and running up to your neighbor's window and snapping a photo. It's a tremendous invasion of privacy, not to mention extremely creepy when you are sitting in your kitchen reading the paper and look up to see a camera floating outside your window recording you. There have been issues with property owners taking matters into their own hands by destroying drones on their property, including extreme cases where the drone was shot down. While there are rules protecting drone users from having anyone fire at their drone, homeowners are permitted to catch (and not destroy) a drone and report it to the authorities. Drone users that have flown onto private property and spied on individuals in their homes are beginning to get penalized for violating civil rights. Plus, law enforcement in some states allow officers to shoot down rogue drones, so it seems that practicing common courtesy with your drone is probably your safest bet.
Laws regarding drone use by law enforcement are also under scrutiny, with the FAA and state law enforcement sometimes at odds with each other over who can create laws regarding drone use. At this time, the FAA is the regulating body of drone laws. However, local law enforcement can enforce laws and can still protect individuals who feel their home and private property has been invaded. While common courtesy is a good idea, following all federal laws of drone use is best. At this time Arkansas, California, Florida, Hawaii, Illinois, Louisiana, Maine, Maryland, Michigan, Mississippi, Nevada, New Hampshire, North Carolina, North Dakota, Oregon, Tennessee, Texas, Utah, Virginia and West Virginia have all passed drone laws, and many more are following suit.
The FAA has published a digital toolkit of safety standards for UAS manufacturers, and resources are available through the FAA for drone users to learn about specific regulations. This Tool Kit is the FAA's initial step for implementing the "Safety Statements" requirement in Section 2203 of the 2016 FAA Extension, Safety, and Security Act.
"The Tool Kit web page contains a ready-to-print sample safety statement (attached), which UAS manufacturers may use in or on their product packaging. To ensure the widest education and safest integration of UAS into the national airspace, the FAA encourages manufacturers to begin providing safety statements to their consumers immediately. The Agency also encourages manufacturers, distributors, and retailers to distribute this messaging via other means, such as a company website posting(s), linking to the FAA's website, or by sharing directly with retail staff and or front-line management." says Nancy Ford, a subcommittee member of the FAA DAC and Owner of Security 101 - Salt Lake City. Keep up on the FAA's regulations and be mindful this holiday season of safe and legal drone use, so that you many continue to enjoy your drone throughout the entire year.