In September, our Security 101 team, alongside our National Strategic Partner, Genea, set the stage for this year's webinar series with an enlightening live session. Together, we dived deep into the dynamic realm of cloud-based, automated property technology.

Our discussion revolved around key topics, including:
Overcoming Legacy Challenges:

We explored strategies to break free from the constraints of outdated systems.

Streamlining User Experience and Reporting:

Discover how to enhance efficiency and data insights.

Integrating Elevators:

Learn how to seamlessly incorporate elevators into your property's tech infrastructure.

Complete Visitor Management:

Ensure the safety and convenience of all guests through comprehensive management solutions.

Going Mobile:

Embrace the future with mobile technology integration.
Moreover, to add some extra excitement, every attendee was automatically entered into a raffle for a chance to win an RTIC 52 Quart Ultra-Light Wheeled Cooler!

Join us in this video as we unveil the latest strategies for elevating your property management practices to new heights.
At Security 101, we're dedicated to delivering the latest advancements in access control technology to property managers. In this recent webinar collaboration, we showcased how our partner, Genea, empowers property managers with cutting-edge mobile credential technology, with a particular focus on how they seamlessly integrate with Apple and Android devices.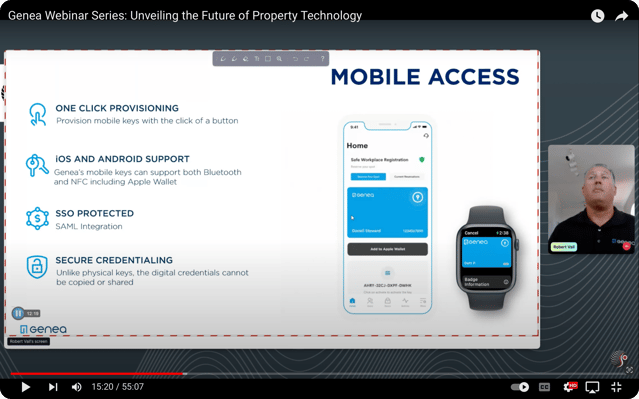 This innovative solution enhances security, simplifies access management, and ensures a user-friendly experience for residents and tenants. Discover more about our insights and expertise in mobile credentials and its integration with Apple and Android devices by watching our webinar.
Watch now to learn how Genea's access control solutions empower property managers with cutting-edge technology that seamlessly integrates with the mobile lifestyles of today's residents and tenants.
Learn more about Genea and request pricing by visiting Genea's dedicated National Strategic Partner page.