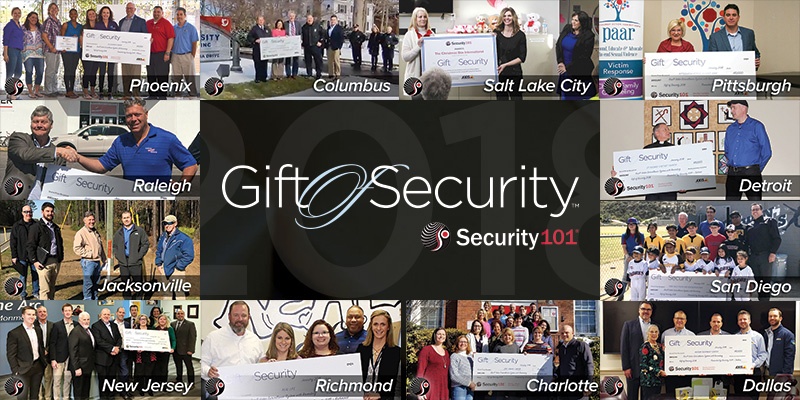 As our 2018 Gift of Security program winds down we want to take a minute to look back on another great year. This is the program's 6th year and with 15 of our offices participating it was also the biggest year so far. Visit the GOS results page If you aren't familiar with GOS, it's Security 101's annual charitable event where we partner with equipment manufacturer Axis Communications to provide local nonprofits with security systems that they otherwise would not be able to afford.

Scroll down to view the Award Presentation's Photo Gallery
The donated systems include cameras and recorders along with installation and are valued at $10,000 each. We don't just provide equipment we also provide our expertise on camera placement and equipment selection. Today, security is a necessity for every organization. When nonprofits have to spend dollars on security they have to pull resources from their main mission of helping others. That's why TEAM101 offices throughout the country step up. It's our way of giving back to the communities where we live and work.

The donated systems mean a lot to these nonprofits. Our winner in Detroit, St. Thomas a' Becket Catholic Church, was burglarized just prior to the system installation. Thieves broke into the church stealing communion chalices and other worship articles. The new system will notify church officials when someone is on the property and will allow them to monitor and record images. A local Detroit television station covered the GOS presentation event.

Watch the news coverage in Detroit This year we had a number of local news stations and publications do stories on the Gift of Security donations.

The Columbus, Ohio office awarded the Gift of Security to a nonprofit in Cleveland and the donation went to University Circle, a downtown development group. The new security system will place security cameras in the public green space – Wade Oval – surrounded by the Cleveland Botanical Gardens, the Cleveland Museum of Art and Cleveland Museum of Natural History. It is a popular gathering area for the community and the cameras will provide an added layer of safety. Watch the news coverage in Ohio


Pittsburgh Action Against Rape was the GOS winner in Pittsburgh and the Sojourner Center, a domestic violence service organization providing emergency shelter, transitional housing and education, was awarded the system in Phoenix. Both organizations have special security needs to keep the victims they service safe and secure.
We try to make GOS a community event in each of our locations. We ask local leaders to nominate worthy nonprofits for the event. Then we post the nominated charities online and let the community vote for which one will win a security system. It lets everyone participate and gives them a voice in the decision.
Through the years the program has grown from a single office in Salt Lake City where it originated with Security 101 – Salt Lake City's co-owner Nancy Ford. It has grown to be an important part of the TEAM101 culture. We believe corporate giving not only helps the local nonprofits, it also helps us get closer to the people in our communities and to be better neighbors.
We expect the program to continue to grow and hope to have even more of our 37 offices involved. It's such a positive event that it's a win-win for everyone. Be on the lookout for our GOS 2019 announcement.