Sometimes when most people think of intelligent cameras, they think of what is depicted on television and movies. Very few people know the capabilities of video surveillance cameras with today's technology. For instance, cameras that have video motion detection built into them, meaning, that they are able to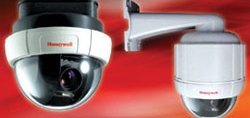 alert a system or a person when motion occurs in an area that should be stationary. This technology makes a world of difference in industries such as, banking, healthcare, and government.
Face detection, another feature capable with intelligent cameras, can be paired with facial recognition systems to detect a threat. Yesterday, I flew to New York and while flying I was thinking about various security measures that could be changed and this happened to be one of them. Imagine with me for a moment, walking down the jetway getting ready to board your plane and seeing an intelligent camera that takes a glimpse of everyone's face to make sure that they are not on any government alert lists. I find this to be a possible future security resource for the airport industry because it goes one step further and enables safe flights, solely checking identification and body scanners may no longer be enough.
Overall, the capabilities of intelligent cameras to improve, secure and streamline today's environment are better than ever. If interested in knowing more about the capabilities of intelligent cameras and how they can help you, contact Security 101 to discuss available solutions.