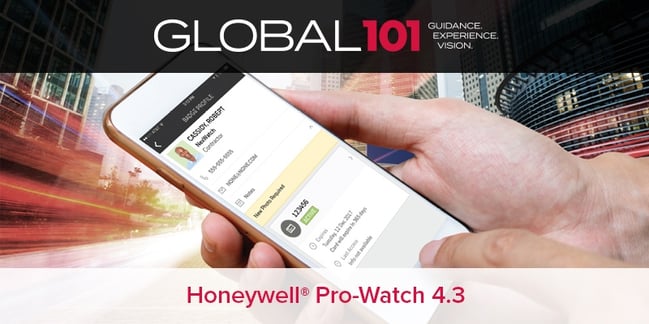 On Thursday, June 29th 2017, Global 101 hosted a quick but informative webinar. The 20-30 minute session was all about the new features and benefits of Honeywell's latest software release for Pro-Watch 4.3. If you would like information on the webinar's content, please contact a Global 101 team member today.

Jim Flisek is the Director of Technology for Global 101 and has spent the past 30 years in the electronic security industry, formerly serving as principal software engineer for Honeywell Integrated Security (HIS). Jim discussed how the latest Honeywell Pro-Watch software can help users combine access control, digital video, intrusion and other functions – like intercom and mass notification systems—into one powerful system. Jim also covered how Pro-Watch works with other manufacturers hardware making it possible to leverage existing hardware as a system expands. Also, with the Pro-Watch web-based client, customers can utilize their existing network infrastructure to provide remote security management for badging, reporting, and alarm and event monitoring.

An industry veteran of nearly 25 years, Mike Trilk leads the Security 101 Global Accounts sales team. Mike served as Moderator during the webinar.
Who attended:
Current Honeywell Pro-Watch users looking to enhance the performance of their current system

Companies currently with multiple locations and multiple solutions looking to cost effectively standardize to one platform

Security Directors with outdated security hardware looking to upgrade to a forward platform

Enterprise security users looking to incorporate remote security functionality into their current system

Attendees learned about the new features and benefits of Honeywell's latest ProWatch 4.3 software release including:
Open Mercury Architecture

Graphical Interface Enhancements

New Mobile Capabilities

Simplified Deployment and Maintenance

Real Time Identity Management

Global 101 is a division of Security 101 — one of the USA's fastest growing national/global enterprise security providers.