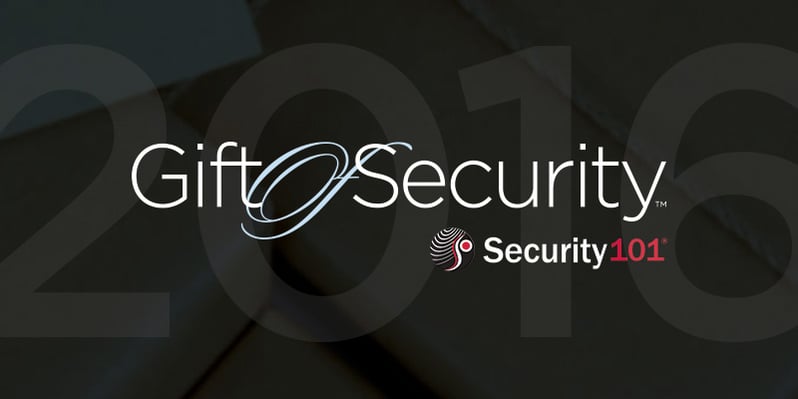 The Gift of Security is an exciting yearly opportunity offered by select Security 101 locations since 2012. We learned that there is a tremendous need to support non-profit organizations in keeping their clients, employees, and volunteers safe. Unfortunately these non-profits often also have limited funding to dedicate to security improvements. Security 101 stepped in by creating the Gift of Security. Beginning with Security 101 - Salt Lake City in 2012, the Gift of Security has now expanded to include Security 101 - Hampton Roads and Security 101 - Charlotte in 2016.
Security 101 - Salt Lake was the flagship location for the Gift of Security. Team101 in Salt Lake developed this exciting program which is now in its fourth year in the Salt Lake City area. Team101 in Salt Lake City will host an awards ceremony to honor their winner on February 26th. In previous years, Salt Lake City has honored The Road Home - Midvale Community Winter Shelter, The Tooele County Children's Justice Center, and The Neighborhood House. This year, the finalists were The Inn Between, Fourth Street Clinic, and Your Community Connection.
Security 101 - Hampton Roads, Virginia began the Gift of Security this year. Hampton Roads is hosting an awards ceremony today for their winner. Susan Hunter of Security 101 - Hampton Roads states: "We chose to make the Gift of Security a priority in Hampton Roads because it's a tangible way to support our non-profits. We offer more than just a donation; we give them our expertise on system location, view, setup, and support. This security system will protect the staff and volunteers, so they can stay focused on the great work they do. It's a small way of saying Thank You for their efforts to make our community a better place to live and work." The finalists in Hampton Roads's flagship year were: Greenbrier Christian Academy, Transitions Family Violence Services, and Maryview Foundation Healthcare Center.
Security 101 - Charlotte also began the Gift of Security this year to exciting results. Charlotte plans on hosting an awards ceremony for their winner February 10th to honor their winner. Liza Alexander of Security 101 - Charlotte states: "It is gratifying to give back to our community that gives so much to us. We are grateful to have the opportunity to give back to such deserving non-profits." The finalists in Charlotte first year of the Gift of Security were: The Learning Collaborative, Hope Haven, Inc., and Samaritan House.
Each winner is rewarded with a state-of-the-art security system professionally engineered and installed by Security 101, completely complimentary thanks to this year's sponsors Axis Communications and Samsung Security. This year, each participating location got to know several local non-profits and with the help of a local panel of judges, narrowed the list of non-profits to three. Each location then opened the decision to the community, sharing the link to voting from January 1 through January 31. After the final voting closed on January 31, the votes were counted and verified.
We are excited to furnish the following non-profit organizations with the Gift of Security:
The Winner of Salt Lake City: Fourth Street Clinic

Fourth Street Clinic helps homeless Utahans improve their health and quality of life by providing high quality health care and support services. For many homeless Utahans, Fourth Street Clinic is their first and only chance at a diagnosis and on-going treatment. By increasing homeless Utahans access to primary care, Fourth Street Clinic is a major partner in ending homelessness, promoting community health, and achieving across-the-board health care savings.

Learn more about Salt Lake City's winner here:

Sponsor: Axis Communications North America
The Winner of Hampton Roads: Greenbrier Christian Academy

Since 1983, Greenbrier Christian Academy has served the Hampton Roads area as an independent Christian school, providing a Christ-centered, biblically based education for students in preschool and K5-12th grade. GCA is a non-denominational ministry offering a challenging academic program while at the same time endeavoring to foster spiritual, physical, and emotional growth in our students. Greenbrier Christian's Superintendent Dr. Ron White stated:

"We are honored as a school to participate in the Security 101 gift program to the community. It is so important for companies like Security 101 to become involved in helping the community of non-profit organizations as we strive to meet community needs through our programs. Our school appreciates the security items being provided through this program.

I say thank you to Security 101 and it's employees from our staff, our parents and especially our students for your gift to our school. We all will feel safer as a result of your willingness to share resources with us and provide your expertise in the area of security for our campus."

Learn more about Hampton Road's winner here:

Sponsor: Axis Communications North America
The Winner of Charlotte: Hope Haven, Inc.

For 40 years, Hope Haven, Inc. has worked to break the cycle of homelessness and addiction, one family at a time. Through a comprehensive residential recovery program that lasts an average of ten months for single men and women and two full years for families, Hope Haven literally moves people from living in cars and under bridges to a place where they are able to reintegrate into society as a productive citizen with the life skills to remain clean and sober in most cases.

Learn more about Charlotte's winner here:

Sponsor: Samsung Security
Security 101 congratulates all of the winners and looks forward to continuing to serve our communities.