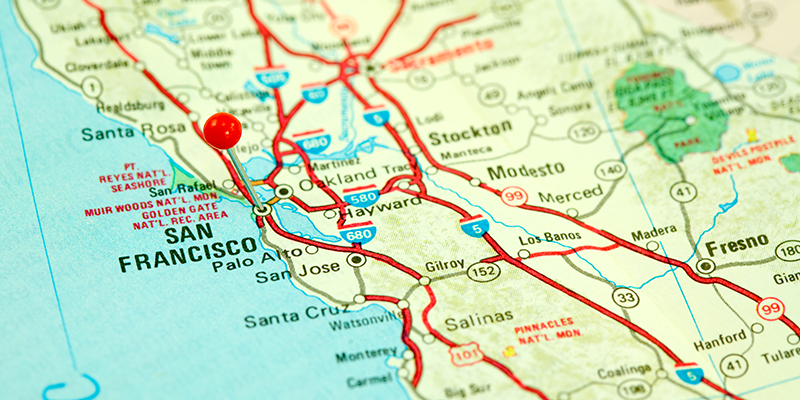 Commercial industries are becoming increasingly prone to both burglary and digital theft. Businesses of all sizes are vulnerable to different kinds of property crimes, from theft to vandalism and more. The best way to ensure that potential offenders think twice before invading your property is by installing security cameras all over your establishment.
Suppose the security cameras are not enough to ward off the offenders. In that case, they will capture and record whatever happens in and around the facility so that you improve your chances of catching the guilty party and bringing them to justice. New camera features including a "talk down" functionality, Artificial Intelligence and machine learning help video surveillance systems supplement guard services to interact directly with suspects before a crime is committed.
Security Systems For Your Bay Area Business
If you want to have security cameras installed on your property, you need professionals for the job since installing a high number of IP cameras can be tricky. Don't attempt to do the installation yourself if you want the system installed efficiently and professionally. Security 101 provides elite security camera installation services in and around the San Francisco Bay Area.
Security Cameras For Businesses
You can count on us to set up sound security, alarm systems, security alarms, and video monitoring systems in your commercial facility while giving you access control. To get started on your commercial security systems in San Francisco, call us now. We provide safe and sound security surveillance solutions and commercial security systems in the San Francisco Bay Area.
Our Commercial Security Solutions
Commercial security can be complicated and needs expert solutions. Security 101 meets all the security needs of commercial buildings in terms of video surveillance. If you're a business owner and want pristine surveillance solutions with access control in the San Francisco Bay area, count on us.
We have helped hundreds of local businesses fulfill all their security needs in the Bay Area and enabled them to access their properties remotely with access control systems while they are away.
Here are all the commercial security solutions and services we provide in the Bay Area of San Francisco:
Integrated Security Systems
Security 101 provides an integrated hardware and software system compatible with the latest access control technology in the security industry. From designing to engineering and installing, our specialists can take care of all the services you need to set up business security systems for local businesses in the Bay Area, San Francisco, CA.
Remote Access Control
Whether it is the installation of entry systems' security, sound security, burglar alarm systems, access control systems, and other kinds of alarm systems in the region, call us if you need a security system in your commercial facility.
Intuitive Access Control Integration
If you run a company, your valuable digital information can be prone to getting into the hands of malicious actors such as hackers. That can threaten your company's integrity, which is why you must put all precautionary measures in place to keep your information from getting into the wrong hands.
Protecting Your Assets
Security 101 can protect both your physical and digital assets. If you want to have peace of mind knowing that your business is safe, Security 101 has the required expertise to design, engineer, install and maintain an effective security system with a streamlined access control system that caters to all your unique security needs in the Bay Area.
High-Definition Video Surveillance Solutions
Any business needs to have grade-A remote access security systems installed on their premises. We install best-in-class video surveillance security equipment for our clients from the leading manufacturers in the country to ensure that our customers don't have to compromise their security needs.
The cameras we install have high-definition resolutions to make sure that even the tiniest details are caught on camera. The HD quality of videos can come in handy if your store or business was robbed and you need evidence to help authorities catch the guilty parties.
Finding the Right Surveillance Equipment
There are IP cameras, analog cameras, and wireless wifi cameras, so we conduct in-depth research at the start of each new project to find out which camera is best for your needs. Do you need access control or do you have other special needs? We will consider your budget and suggest the best security system within your price range for your local Bay Area business.
Visitor Management
Businesses need to keep tabs on who visits the property to ensure that no unauthorized party enters the premises. This is especially vital for companies that have multiple locations across the city or the country.
Visitor management for big companies is important, and the best way to ensure that you can identify your visitors is by having a security system that checks in guests and keeps a digital record of each visitor. Security 101 can do an in-depth analysis of your building to design a visitor management solution tailored to meet your needs.
Our San Francisco Bay Area Security Services
Security 101 provides a full range of video surveillance services in the Bay Area of San Francisco. Business security is our forte, and with access control systems, video surveillance, and burglar alarm systems, you can count on our equipment to ensure that your business stays safe from any malicious elements.
Here are the services we provide to ensure business security in the San Francisco Bay Area, CA
Designing Commercial Security Systems
Each business has unique expectations of its commercial security systems. The principle of 'one size fits all' does not apply to commercial security systems. That is why we follow a plan of action regarding the design of the security system to ensure that each client gets the video surveillance system they need for their company.
Here is the research we conduct to design commercial security systems for our Bay Area clients:
Client interviews
Site surveys
Security risk evaluations
Written specifications
Surveillance systems' assessments
By following the above-mentioned modus operandi, we can tailor a design that fulfills the security needs of each of our clients.
Engineering
Security 101 has a separate engineering department that reviews potential risks and vulnerabilities at a client's location. We then design effective security solutions for commercial security systems for our clients' locations in and around San Francisco. Our network of 50+ offices around the country can even help you with your facilities that are not here in Northern California. All of our engineers are highly qualified and have years of experience in the industry.
Skilled and Reliable
Our skilled and reliable engineers provide experienced service throughout the whole region and work with 100% integrity and accountability. If you want to put the best people at work on your project, then the engineers at Security 101 are the people to hire in The Bay Area.
Installation
Our specialists install best-in-class commercial security cameras and use the best equipment for the job. After designing and engineering your new security system, installation is the last phase of your security project and must be handled with care.
Premium Security Systems
Security 101 has completed numerous commercial security system installations in the San Francisco Bay Area, and you're welcome to read our reviews to confirm our excellent track record. For the most satisfactory commercial security services and commercial security solutions in the Bay, call Security 101.
Frequently Asked Questions About Commercial Security Systems In The Bay Area
Your commercial security system is one of your business's last lines of defense against break-ins, robberies, and theft. Integrating the right system into your business can save you lots of money while also improving the safety and value of your business.
Protecting your property doesn't have to be difficult. Security 101 has provided safe and secure surveillance options for the entire Bay Area community. Read on for more suggestions on how you can protect your business.
What questions should I ask before choosing a security system company?
If you want to have a commercial security system installed on your property, you have to hire a security system company to get the job done professionally. If you want to find the perfect security company for your needs, here are some questions you should ask:
How long has the company been in business?
Does the company perform detailed background checks on the people they hire?
Does the company provide a warranty on the commercial security system they install?
Would I need to sign a contract to begin the project?.
Does the system provided by the company come with everything my business needs in terms of security, or does it lack anything? If it does lack something, how does the company plan on bridging the gap, so I have an effective security system in place?
Does the security equipment provided by the company have all the advanced and latest safety features?
If I move the location of my business, would I be able to take the security equipment
with me?
What are the things to consider when installing CCTV cameras for my business?
If you want to install security cameras for security in your local business, you have to consider a few things. Here are some things to consider before you make any long-term commitments:
The method of monitoring.
Deciding how many closed-circuit television cameras are needed.
Determining the positions of each security camera, so there are little to no blind spots.
How to hide your security cameras, so people won't know the location of all the cameras when they enter your property.
Choosing the perfect power backup option for your commercial security systems so the unit is always running, even during blackouts.
Testing the security cameras to make sure that everything is in place.
Making sure the cameras receive the latest firmware and software updates.
Cleaning and maintaining the cameras so the lenses are always clear and in focus.
To know more about having a security system installed, it's best to contact Security 101 for our
expert opinion.
Why Choose Security 101 - San Francisco Bay Area For Commercial Services?
The security systems and security integrator that you choose can drastically affect your business. It can be very frustrating to have a broken security system in place when you need it the most. Many businesses decide to invest in their security systems after something tragic happens. In the case of your business, that could be too little, too late.
Security 101 has been in the commercial security integration business since 2003. Our company's experienced staff works with integrity to meet the changing demands of the industry, as well as our customers' satisfaction.
Robert Chamberlin
Rob Chamberlin is the founder and President of Security 101 – San Francisco Bay Area & Sacramento. Security 101 offers a full range of commercial security professional services to its business customers and helps to protect its client's people, ...