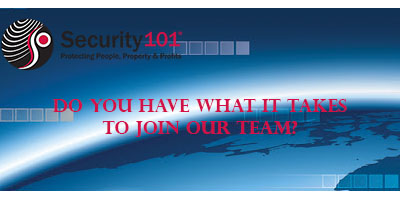 Sales Representative – Salt Lake, Utah
Job Description
Join a winning team and experience the dramatic growth of the Commercial Security Industry in Utah. Security 101 is seeking a Commercial Sales Representative for our Salt Lake City office. We are a national company and industry leader that provides commercial integrated security systems.
The successful candidate will be responsible for the design and sale of Access Control, IP Video, Intrusion, Visitor Management and Intercom Systems. We are looking for an enthusiastic Sales Rep with strong prospecting, relationship building, new business development skills and a desire for advancement.
This candidate will market their skills to IT & Security professionals as well as Facility Directors, Property Managers, Fortune 1000 CEO's and various Government Entities.
The optimum candidate would be an experienced professional in the electronic security industry or technology sales. The most important attribute is experience in outside sales to commercial customers.
Desired Skills & Experience
The ideal candidate will have the following traits and skills:
• Outside sales experience with Integrated Security Systems
• Proven ability to close sales
• Exceptionally strong interpersonal and communication skills
• Solid presentation and organization abilities
• Excellent phone skills using prospecting and database development
• Possess an assertive attitude with a strong desire to compete and win
• Knowledge and practical experience selling to commercial clients
• Must be able to work independently
• Must possess a valid driving license and clean driving history
Our employees work in a motivating, team oriented work environment. If you meet the qualifications, please contact us today at hr-utah@security101.com to learn how you can join this great place to work!
CAD Operator- Pompano Beach, FL
Working with project managers, estimators and engineering staff, this position is responsible for drafting, design and documentation of electronic video surveillance and access control security systems in large facilities and buildings, which includes quality control, engineering standards, scheduling, and assisting in pre-bid project design review.
Job Description
• Interprets and creates detailed low voltage electrical drawings, schematics and illustrations as directed by the Engineering Manager including but not limited to initial sketches for proposals, panel, floor plans, block diagrams, point-to-point, door elevations, door details for installation, and as-built drawings upon project completion.
• Determines most effective presentation to assure conformity to applicable codes and specifications.
• Provides for compliance with items such as specifications and codes when performing highly specialized systems designs.
• Prepares one-line diagrams, conduit, wire schedules and panel schedules.
• Prepares building department's permit submittal package for permit expediter.
• Creates programming sheets and updates material requisitions to ensure the proper model number will be ordered by the Project Manager at beginning of projects.
• Meets the estimated drafting hours on projects.
• Maintains drawing database, insuring drawings and revisions are stored in a logical order, and regular and frequent backups are performed.
• Adequate and accurate time posting of all engineering time to projects.
• Works with the Engineering Manager to maintain company engineering and drafting standards.
• Maintains engineering/drafting packages for all manufacturers in a template or cookie-cutter format.
• Maintains the engineering and project files on the company file server.
Computer Skills:
To perform this job successfully, an individual should have knowledge and experience with MS Word, accounting software, MS Excel, design software, project management software and programmable logic software.
Certificates & Licenses:
AutoCAD certification preferred.
Practical knowledge of electronic principal is desirable.
To apply for this position email resume to: mwalton@security101.com / fbetances@security101.com
Email subject line must read: CAD OPERATOR POMPANO